New Soap series: Mindful Meadow Redesign
May 07, 2022
One soap recipe, 4 different designs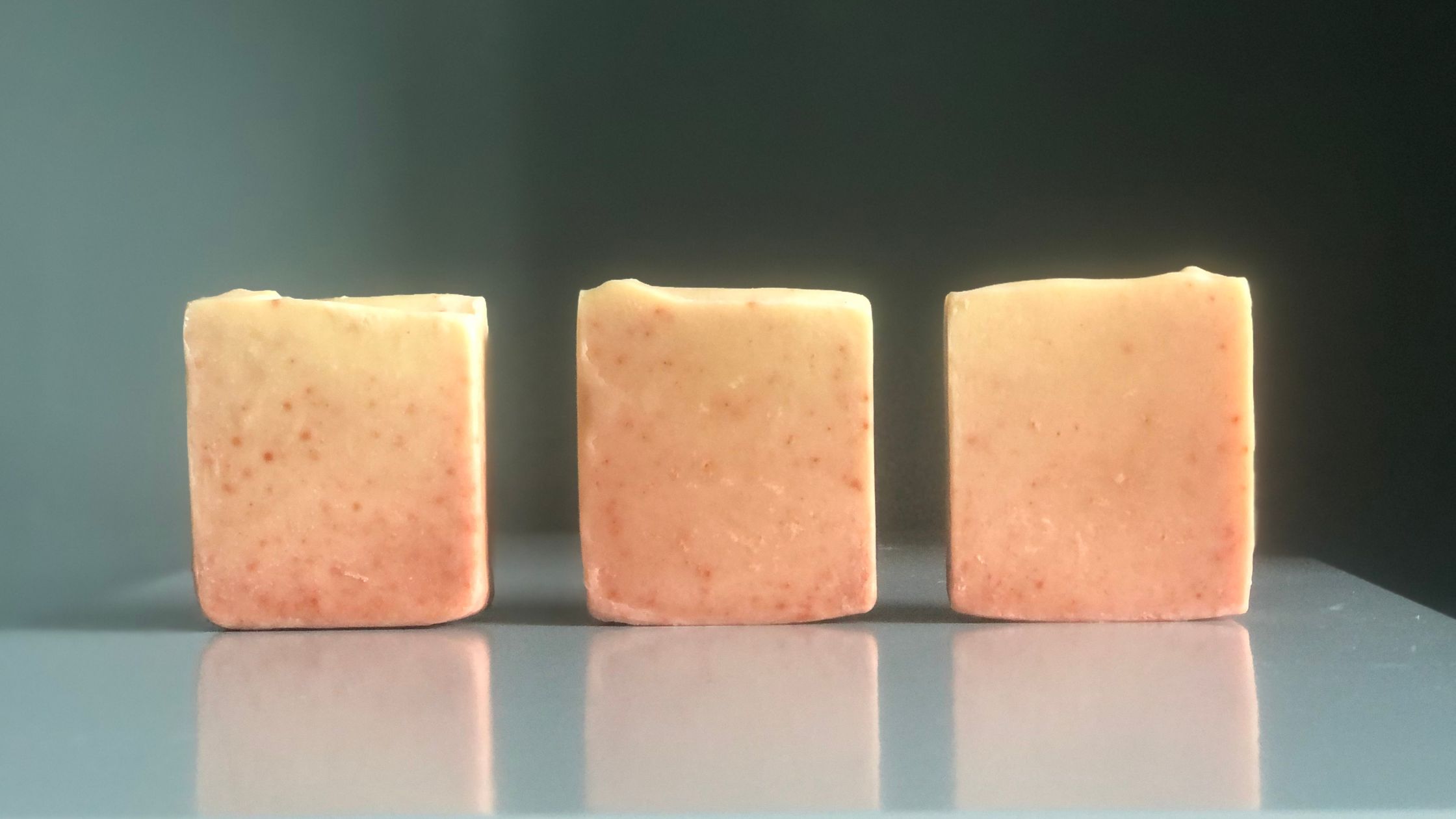 Wow! It feels like a really long time since I wrote a blog post just about making soap! This is actually going to be a series all about our Mindful Meadow handcrafted soap. I love this soap, the scent of Lavender and Rose Geranium is so calming and restorative, but I have never really been completely set on a design for it. So in honour of #nomowmay I thought it would be the perfect time to redesign this meadow inspired bar. And I am going to need your help to decide which design is best, Anyway more on that later -I have got a little ahead of myself. Back to the series.
In the UK all our soap recipes have to be safety assessed by a certified chemist and if they are approved we receive a Cosmetic Product Safety Report (CPSR) meaning we can legally sell that particular soap in the UK. But this means once our recipe has been assessed and approved we can not change it at all, not one tiny bit - we have to follow our recipe exactly. So although for this redesign I am unable to change the ingredients or add in any extra colours I thought it would be really interesting to see if I can develop 4 different designs using this exact recipe!
The only colour I have for Mindful Meadow is a beautiful deep pink from the madder root powder. So for today's design I thought I would ease myself into this challenge and start with an Ombre design (or is it gradient - I really don't know). Anyway whatever you call it, this is a pretty straight forward pour and hopefully should result in a bar that changes gradually from the deep pink to a creamy pink.
So how did I make this bar - well I made up my soap batter following my assessed recipe and I split a 1/4 of it into a separate jug that contained the madder root dispersed in some sunflower oil (for a 1000g batch of soap my assessment allows me 3g of Madder root).
I then took my mould and put it on an angle - I don't have any fancy equipment I just used a rolled up tea towel to angle the mould! Then I poured the deep red soap batter down the wall, about 3 to 4 passes. Then to achieve the ombre effect I added a splash of the plain batter, mixed and poured that down the wall with 3 to 4 passes and basically I continued with this, gradually adding the plain batter until all the soap batter was used up. I was careful to lower the mould down slowly and once it was back to being flat I made sure I only added the soap to side I have been pouring the soap batter down the wall. This is to protect the ombre effect. For this design I decided to do a textured top and that was that! You can see a very sped up video of this pour over on my Instagram account. I cut the soap the following day and here is the result.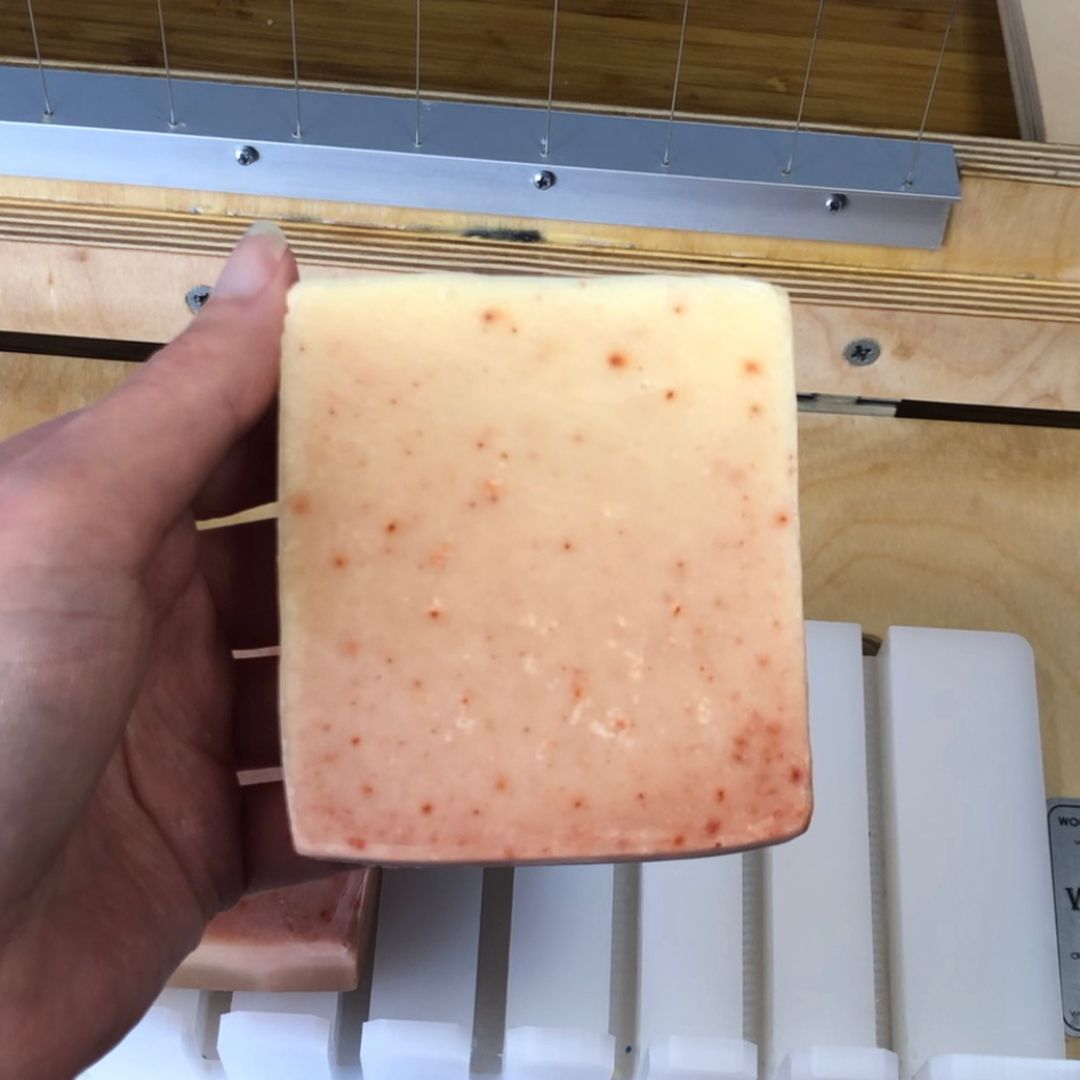 I love this bar I think it looks really dreamy and calm - perfect for Mindful Meadow! What do you think? Let me know in the comments below.
This bar will be available in my shop to buy but not until all the bars in the series have had their moment in the lime light!! And we still have 3 bars to go! If you would like to know when they are going to drop on my website I would join my Newsletter so you don't miss out - especially as I have only made a few bars of each design so if you have a favourite I would get in quick before they go!
Well that's it for this week, I best get my thinking cap on for the second design!
Kelly xx
...
I am Kelly Townsend and this is the Small Kindness Blog. I am a scientist, a bee lover, a rewilding obsessive, and I want to spread Small Kindnesses through the medium of soap. Follow me on Facebook, Instagram and Twitter for your daily dose of kindness (as well as to see how the soap making is going!