Learning to Make Soap: Part 12
May 13, 2021
Testing natural colourants and the mystery of the weirdly soft soaps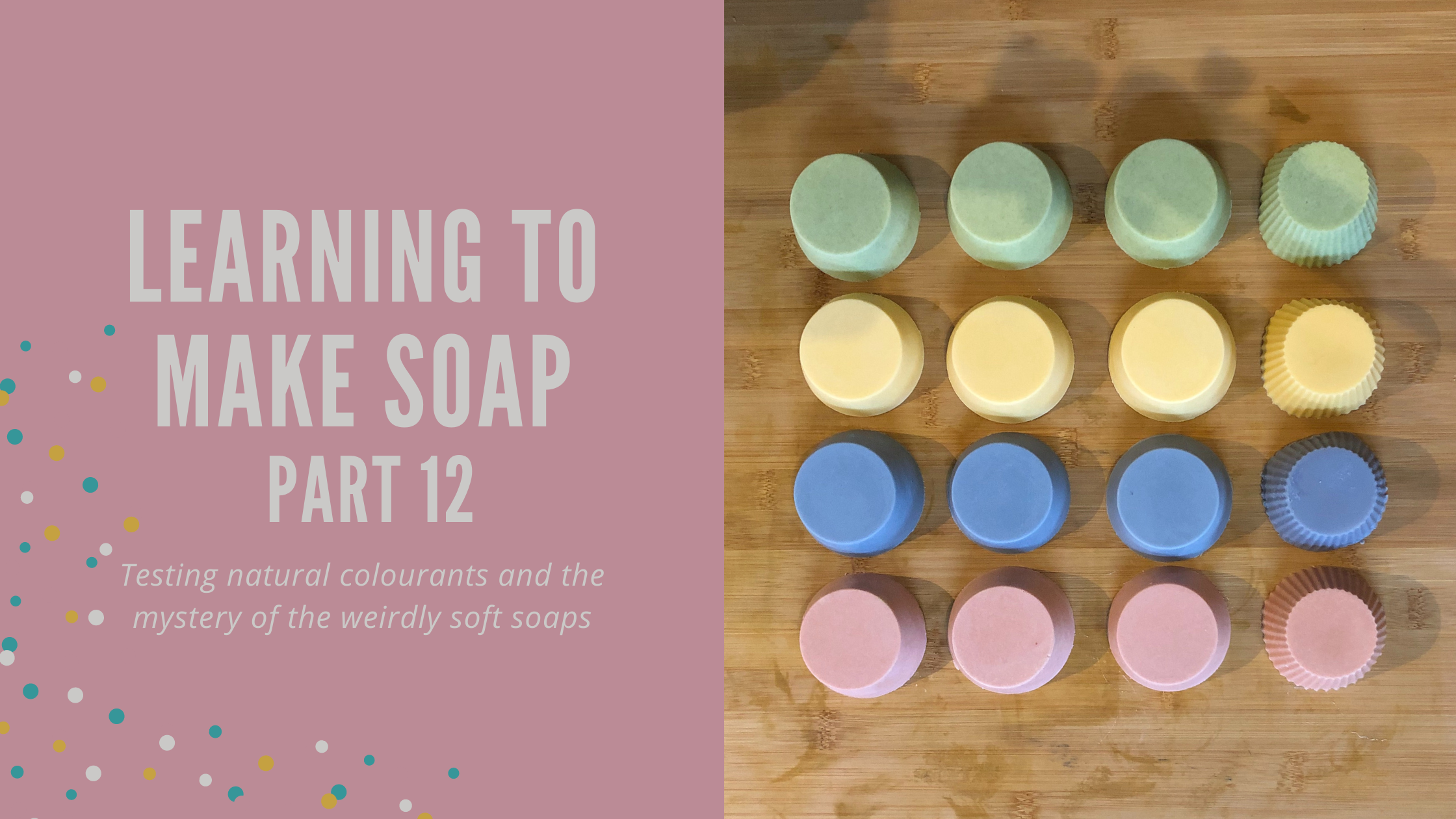 As promised this blog post reports back on how my experiments using natural colours went. Well if I am honest, it has been a little bit mixed!
First off I tested the infused oils that I made last week (read about how I made these here).
Spirulina in olive oil
Annatto seeds in olive oil
Alkanet in olive oil
Madder root in olive oil
All of these were made using 5g of botanical per 100g of olive oil and, when infused, the oils are a fantastic array of colours. To test them I replaced the olive oil portion of my soap recipe with these coloured oils meaning they made up 42% of the soaping oils. This was to ensure I could create the most vivid colour possible with these natural colourants.
So how did I make the soap? I measured out all of my soaping oils as I would do normally but without the olive oil portion. I melted my solid oils, combined them with the liquid oils and divided this equally between 4 different containers. Although one problem with living as plastic free as possible is I don't have many plastic containers so I really had to hunt around for pots I could use to split the batter into. As they were going to hold the batter I had to be sure they were safe to be used with lye - so they had to be made from either High density polyethylene (HDPE, recycling code #2) or polypropylene (PP, recycling code #5). In the end I had to use the plastic container the Christmas lights had come in as one of the containers! Then to each container I added a different infused olive oil and gave it a quick mix. To this I then added a quarter of my lye solution and blended the oils and the lye together as I would usually to make soap. It was at this point I could really see the different colours!
I then poured them into my cupcake mould, 3 wells for each colour and an additional silicone cupcake case so that I could put that into a pre heated oven to force through gel phase (known as cold process oven process -CPOP) which should make the colours brighter and more stable.
Following 24 hours I unmoulded the soaps - and I was really pleased with the colours (see below)- they weren't as bright as they were before saponification, but I really liked them. If you look below the soaps on the right hand side were the soaps that I had attempted to force through gel. To be honest I don't think this has worked as the soaps are exactly the same colour and you would expect the gelled soaps to be darker. I think the amount of soap in each of those cupcake moulds was too small to hold the heat - even in the oven and I think that our kitchen is generally just way too cold.
The other thing we need to be aware of is how much the colours will fade - to know that we will have to see how the soaps look once they have cured in 4 weeks time. But even after just 6 days you can see how the colours have already begun to change - particularly the spirulina which has really faded. Green is notoriously difficult to get right with natural colourants - so I think this may need a bit of work. The madder root is now looking almost peachy, the annatto is a pale yellow and the alkanet is again looking a grey purple rather than a bright purple, but I really like it.
The next batch of testing was to use the colourants directly in the soap batter (as I did previously with the nettle powder). I was testing the activated charcoal, madder root powder, nettle leaf powder and spirulina. I used exactly the same soap recipe as before but this time I just split the soap batter into equal portions and added the pre-weighed colourants (which had been dispersed in a bit of the soaping oils to help them mix into the soap batter more easily). These were then thoroughly mixed and poured into the cupcake moulds, covered with card and left for 24 hours.
Following 24 hours, the soaps were still too soft to unmould - which was weird as it was exactly the same recipe as before. Even this morning - a good 36 hours later- some of the bars were too soft. I have no idea what went wrong - I know I added the correct amount of all the ingredients as I always double check everything. And really strangely it isn't all of the soaps - just some of them.
Anyway I can still see what most of the colours look like - the madder root is pretty similar to the infused oil but it is a bit more grainy. I am definitely interested to see if this fades to the peachy colour or stays dusky pink. The charcoal powder looks great but is a bit darker than what I want so I will try this again using less charcoal and see how that turns out. The spirulina is a much darker colour than when I used the spirulina infused oil so it will be interesting to see how much it fades during the cure. And the nettle is a very dark green and is a very soft soap.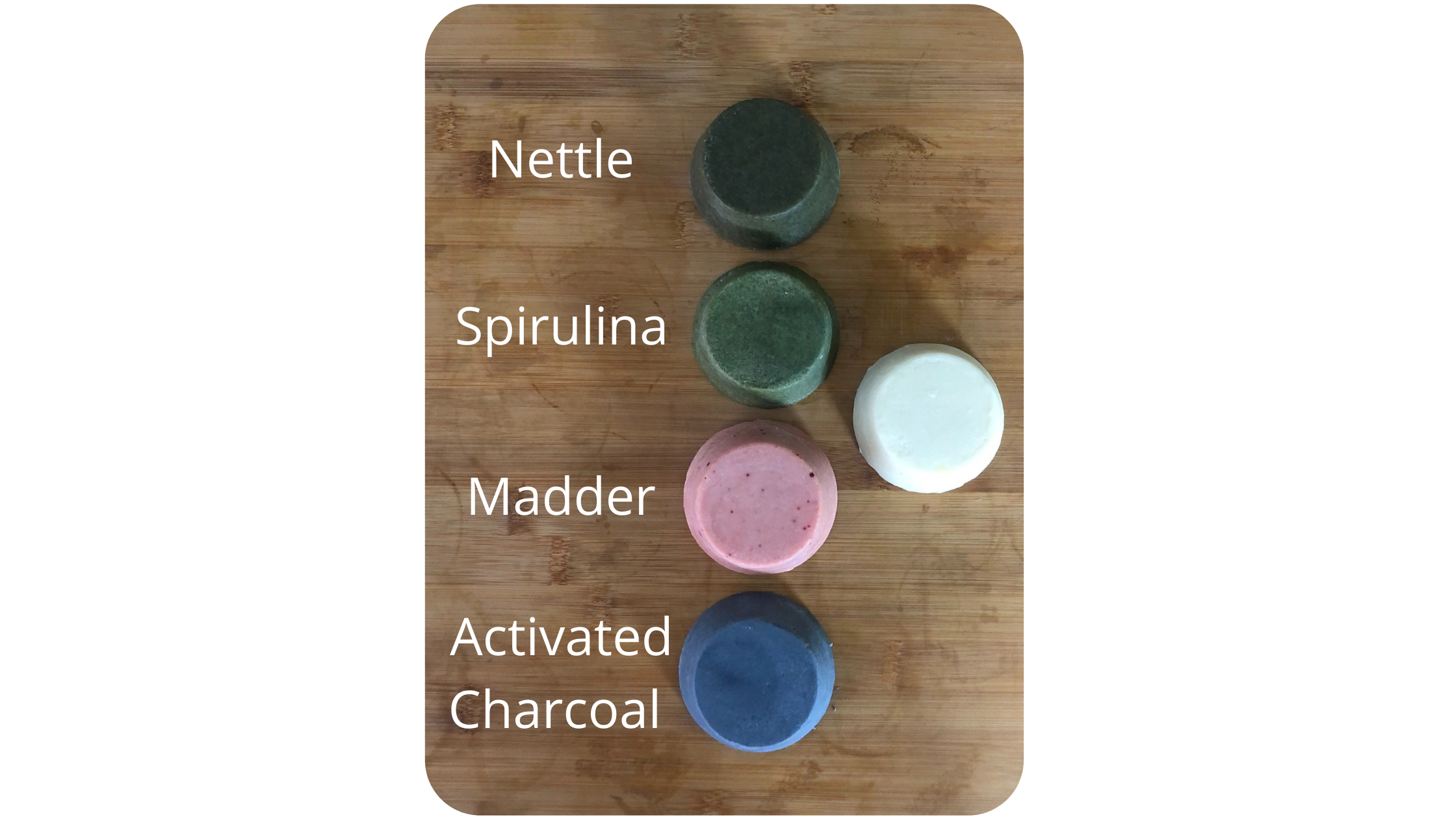 So what next - the positives - I am really pleased with how the alkanet, annatto and the madder root (both the infused oil and directly adding the powder to the soap batter) turned out. It is definitely the greens I am not happy with. Also the nettle powder soap has a slightly odd smell, which isn't ideal for soap! So possibly back to the drawing board for the greens, but I am happy that I am close to creating a yellow, pink, purple and grey blue colour made from natural ingredients for my soaps.
Having said that, I really do want to see how gelling the soaps will effect the colours as I think it will make the alkanet produce more of a purple than a grey, it will possibly help slow the fade of the spirulina and might result in the madder root staying that lovely, dusky pink. As using the cupcake moulds hasn't been all that successful I will try to force the soap through gel using one of my loaf moulds - the extra volume of soap should help retain the temperature.
As to why some of the soaps are so soft - I am not sure. I will make another batch to see if I have the same issue. It is possible it might be an issue with temperature - both the temperature I was soaping at and the room temperature. It was particularly cold when I made the second batch, hailing outside and weirdly humid - none of which would have particularly helped with saponification. It also could be due to the colourants, the amount added and how they were incorporated or it could be that I have just opened a new bottle of NaOH - although I really hope it isn't that!! Anyway I will try again, using a loaf mould and of course I will let you know how that goes!
Right best get back to it - I will be back next week with more coloured soap.
Until next time, take care
Kelly xx
...
I am Kelly Townsend and this is the Small Kindness Blog. I am a scientist, a bee lover, a rewilding obsessive, and I want to spread Small Kindnesses through the medium of soap. Follow me on Facebook, Instagram and Twitter for your daily dose of kindness (as well as to see how the soap making is going!)